Props and Photo Ops
While the auction was going on, there was a room set up with props from some of the TV shows with which Jon was involved, and we found two very special items.



Like this needs explanation. The only thing that would have made this perfect is if we were able to sit in it. I can't say I blame the owner. I can only imagine the stains we would have left on the seat.




The infamous front. The owner even used Nick's
plate number.

We're not worthy!




Remember the cages in Francesca, where Francesca kept her dinner?

Caged Heat I.

Caged Heat II.




On the other side of this wall was the Caddy.

Booty call.




Later that night we had the opportunity to mingle with the celebs. Here I am with the incredibly gifted LFN storyboard artist Doug MacRae.

And Karen, Doug, and some very enticing berries.

Here I am with the incredibly tall Nigel Bennett.




And here's Karen, much closer in height.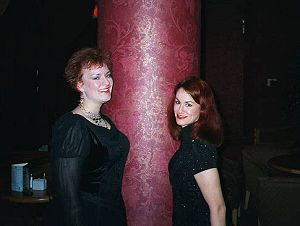 Sometimes a large, pink pole is just a pole.
Previous page
Back to Toronto
Home